The Red Bull Formula One team brought their race car to Jamaica...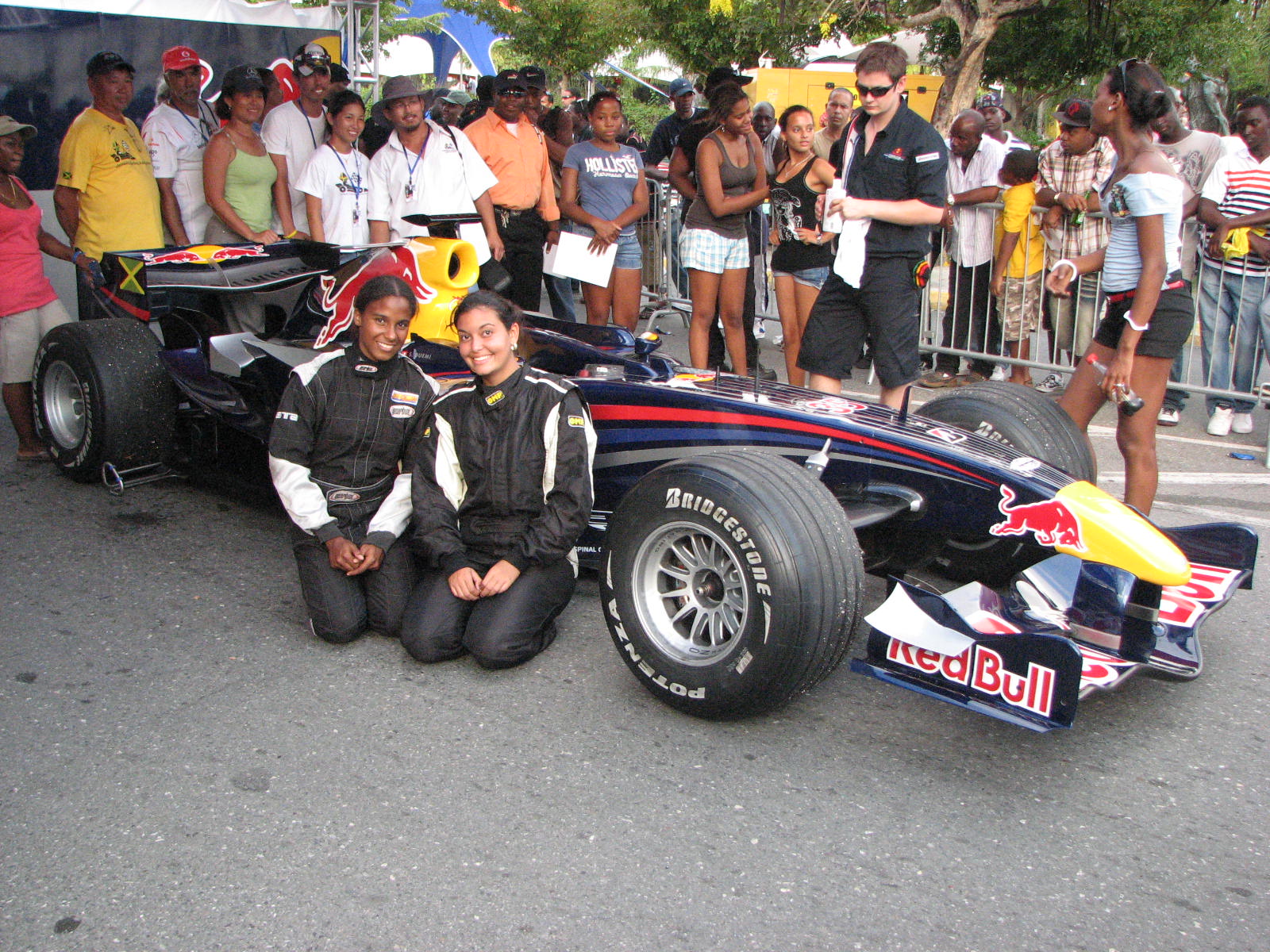 FORMULA 0NE RACING
By Richard Sirgany

In this page you will find pictures from the visit of the Red Bull Formula One Team in Jamaica, in May 2008.

What is an F1 Car? Consider your average high-performance car: 300 HP, 3000 lbs. Every HP is driving 10 lbs. Compare to an F1 machine: 1350 lbs with driver and just under 800 HP with a 7-speed gearbox that shift gears in 1/400 of a second. This power propels an F1 car from 0 to 150 mph and back in less than eight seconds. Formula One cars can corner at 4Gs, and braking can generate up to 5Gs. The engine is only 145 C.I.D. normally aspirated revving to 19,000 rpm. And this is limited by rules, not by technology. Also by rules, these engines must last for two race weekends, which includes six practice sessions, two qualifying sessions and two races. This is technology that is second to none. Put twenty of these cars, driven by the best drivers on the planet and racing in sixteen different countries on tracks and facilities that are mind-boggling, and you have Formula One Racing.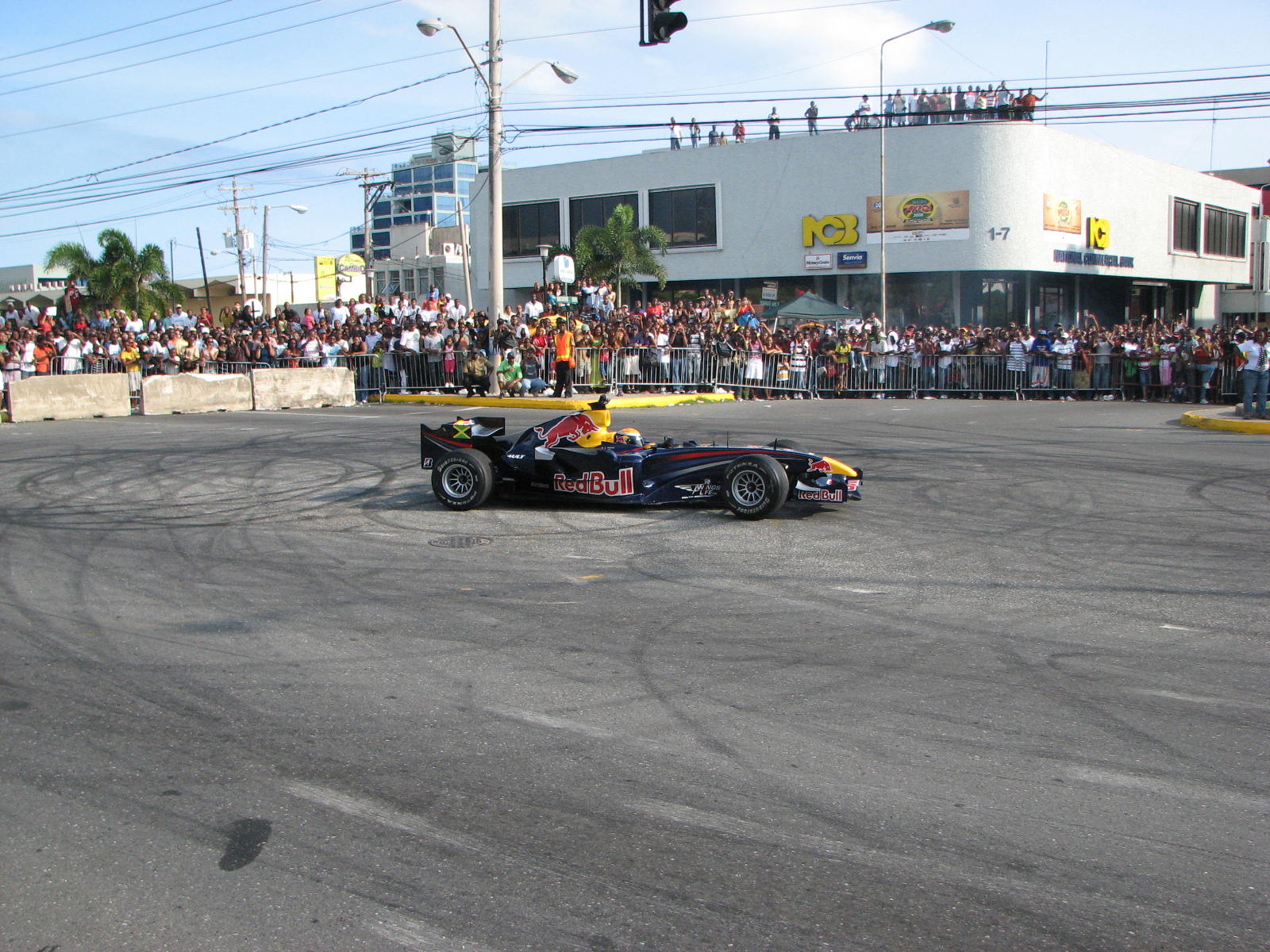 The 2007 season was one of the most spectacular, despite the retirement of Michael Schumacher in 2006; the seven-time World Champion, who is regarded as one of the greatest of all times. 2007 was truly magnificent. I doubt that the best of Hollywood could have come up with a more unbelievable story that in fact became reality. Consider that these cars are made by the best and brightest of manufacturers including Ferrari, Mercedes Benz, BMW, Honda, Toyota, Renault (the 2006 reigning Manufacturer Champion), and some of the greatest race car makers. All of the seventeen races were won either by Ferrari or McLaren/Mercedes. Kimi Raikkonen won six with Ferrari, Lewis Hamilton won four and Fernando Alonso (the 2006 Champion) won four, both with MacLaren/Mercedes; Felipe Massa won three with Ferrari.

Lewis Who?? Every year new faces turn up in Formula One, but rarely do they end up in the first ten standings. Enter Lewis Hamilton, the rookie, a youngster from the Caribbean and brought up in England, alongside two-time defending World Champion, Fernando Alonso, both driving McLarens. This young man is in his early twenties, and the first time ever in a Formula One car. In the first nine races this amazing rookie, perhaps the best rookie of all times, racked up two wins, four second places and three third places.

He was never off the podium.

In the next seven races however, he won twice, faltered twice not earning any points in those two races, but still led the Championship over his World-Champion team-mate by three points and over Raikkonen by seven points going into the last race in Brazil. His chances of becoming the next World Champ (the first rookie ever to do so) was excellent, but alas, it was not meant to be. The bad luck that followed Kimi Raikkonen through all of his career with McLaren and Ferrari just vanished and descended on Lewis and his McLaren. A spin and electronic glitches relegated Hamilton to the back of the field, and try as he may, he could only gain two points for a 7th place finish. Raikkonen, who was given at best an outside chance of winning the title, won the Brazilian Grand Prix and became the 2007 World Champion.

However, the amazing story did not end there. The championship for manufacturers was being contested at the same time. Enters the biggest spy scandal in F1 history. Information and hundreds of pages of Ferrari tech documents reached McLaren via McLaren test driver Pedro de la Rosa and Ferrari engineer Michael Stepney. Fernando Alonso was the recipient. The affair was dubbed Stepneygate As a result, McLaren was stripped of their manufacturer points and so Ferrari won the Championship. McLaren was fined One Hundred Million Dollars (later reduced to 50).

Hang in there; there is more, which can be called the Meteoric Rise of Lewis Hamilton. The first race of the 2008 season was in Australia in March. Lewis's dad did not attend, and it was rumored that may have been due to lack of funds. Sometime before the end of the season, Hamilton signed a contract worth a reported one hundred and five million dollars to drive for McLaren over a five-year period. Not bad for a kid who met Ron Dennis, the Principal of McLaren Cars, some ten years earlier and after getting his autograph he told Dennis that one day he would drive a McLaren for him;

Hollywood, try to top that!

2008 will be another unbelievable Formula One year; I will keep you posted. Meanwhile, enjoy the pictures of the Red Bull F1 car in Jamaica. What would be the chances of seeing a real F1 car running through the city streets and on a go-kart track driven by the team's test driver.. not very many; but earlier this May in Kingston, Jamaica, the Renault-powered (V10 engine, 900 HP) Red Bull F1 car was in fact driven at speed on a temporary street circuit by test driver Sebastian Bumie. The car was also driven on the beautiful go-kart track by the international airport. The event was organized as a thank you gesture as Jamaicans have consumed more Red Bull drinks than any other country.

Check out the pictures, which also show my granddaughter and two grandsons in this marvelous machine. Meanwhile these kids are serious go-kart drivers!

Richard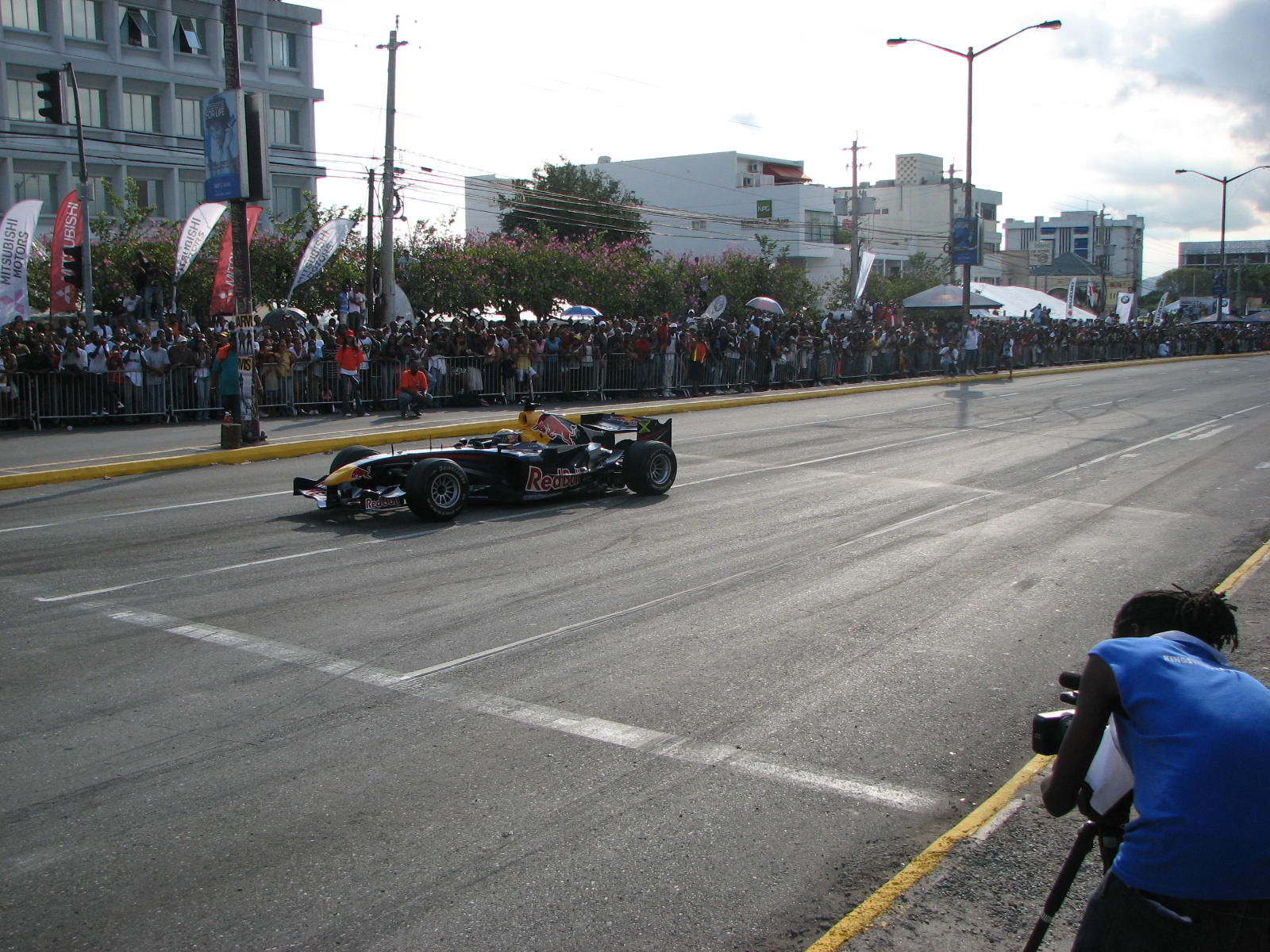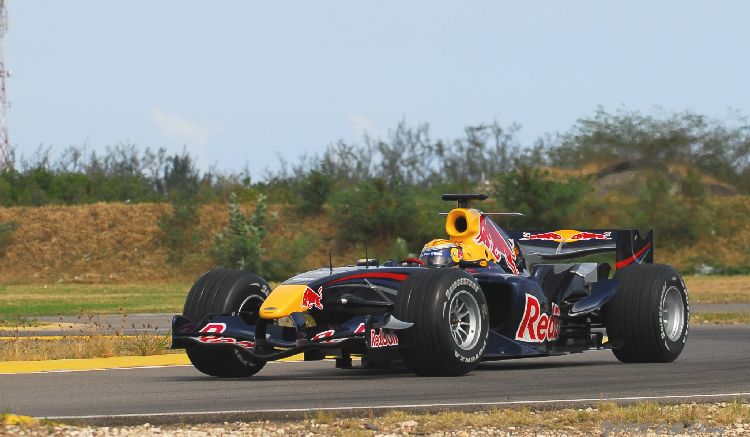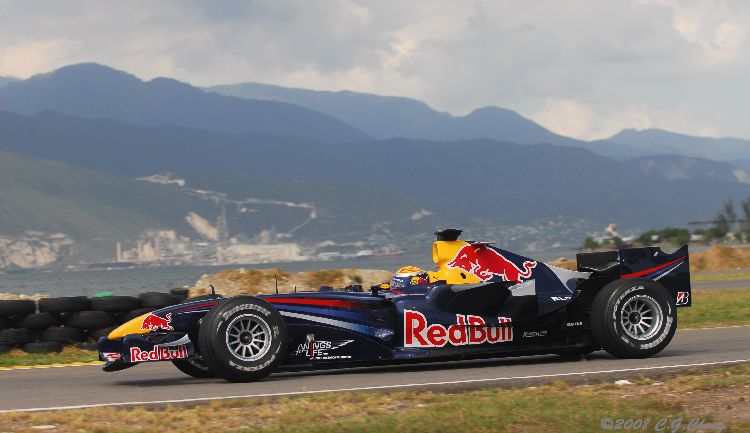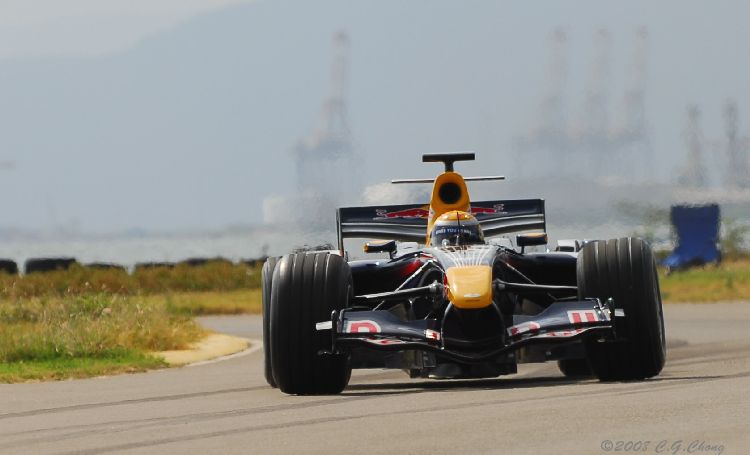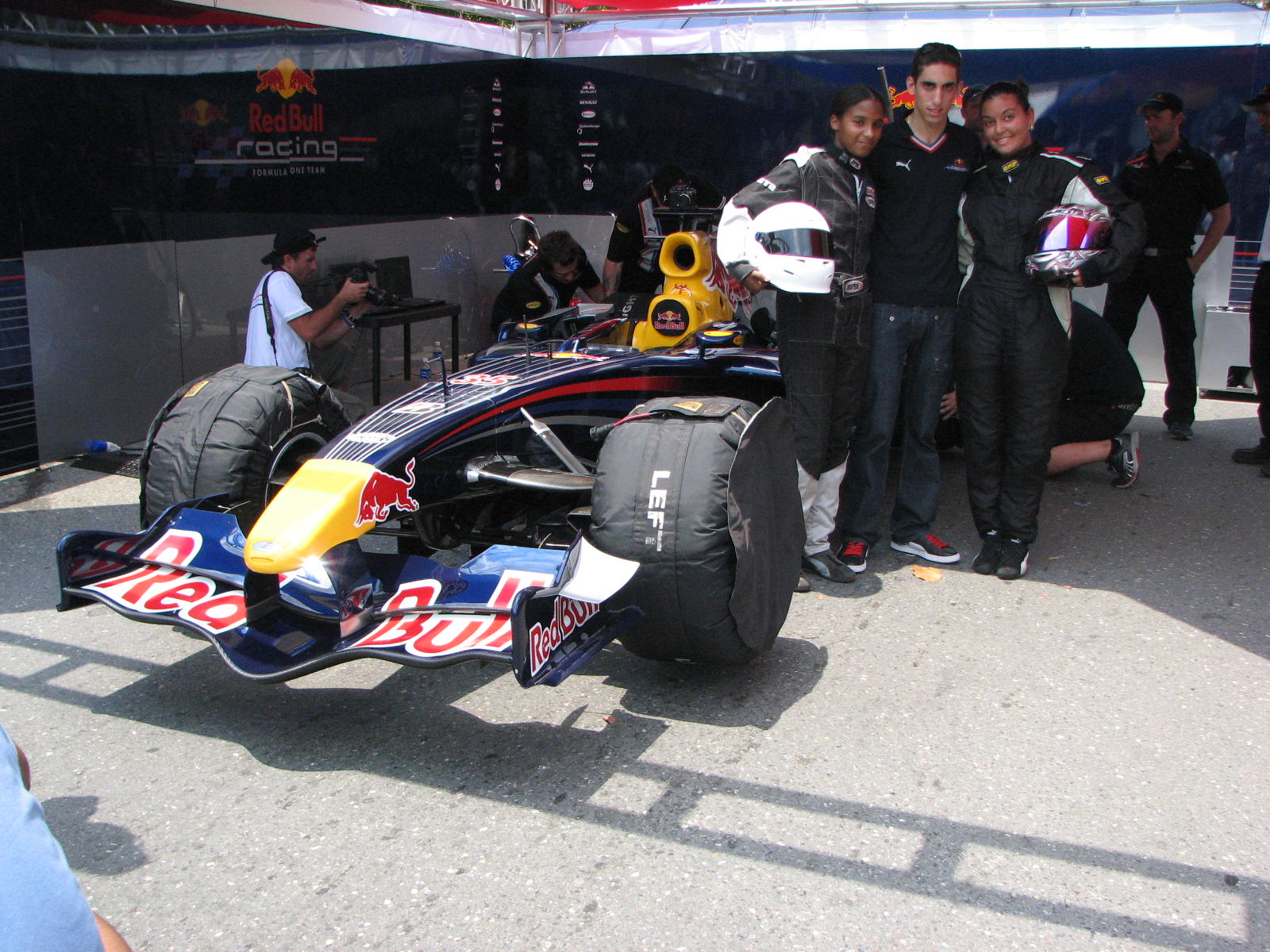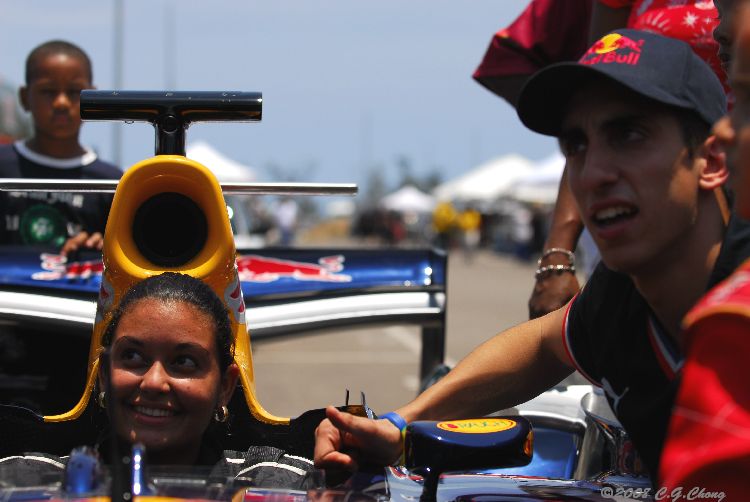 Click on picture to read story on the Jamaica Daily Gleaner bout my grandaughter Sabrina and her exploits in karting.